Pellet Grinder
Pellet grinder plays an important role in the organic and compound fertilizer production line significantly. We usually put the grinding part before granulation part. Through the belt conveyor, crusher transmits the appropriate size of raw materials to the granulation part, and unqualified granulated pellets can regards as returned materials to send back to the crusher subsequently. They can crush the big solid blocks into small pieces, fine powder or powder to help make much more smooth and high quality fertilizer pellets. Thus, you can use grinder to adjust the granulated pellets' particle size, hardness and fiber.
There are six types of pellet grinder for you to choose: new type vertical crusher, semi-wet material crusher, urea crusher, cage crusher, chain crusher, and straw crusher. Besides, here is more information about them for your reference: every crusher's introduction, working procedure of semi-wet material crusher, features and effects of hot sale new type vertical crusher, and how does our crusher work with flat die granulation machine.
Six Different Pellets Grinding Machines Will Help Make Fertilizer Granules in Our Factory
In short, you can find there are mainly six pellet grinder machines on website. There are general introductions for them one by one. Here we can can make a short comparison of their product parameters. Therefore, we can feel their differences more intuitively.
Small scale granules grinding machine: Straw crusher.
It is applicable to various biomass raw materials (corn stalks, wheat straws, cotton stalks, straw, branches, leaves, sawdust and other crops as raw materials. There are JG-600, JG-800 and JG-1000 models in our factory. What's more, their production capacity is 1-4 tons per hour. The inlet moisture should less than 10%.
Medium scale pellet grinder: Semi-wet material crusher, Urea cursher, Cage crusher.
1. Semi-wet material crusher for crushing raw materials of fertilizer granules.
Semi-wet material crusher is suitable for organic fertilizer's granulation. There are six models in our factory: SF-40, SF-40II, SF-60, SF-60II, SF-90, SF-120 semi-wet material crusher. They can grind more than hundred raw materials. They can handle raw materials 1-8 tons in one hour. Their powers are between 22-75 kw. Besides, there are mainly two particle sizes you can choose: 50 mesh and 80 mesh. You can choose each one according to your granulation needs.
2.Urea crusher can crush raw materials of fertilizer granules.
It grind the materials by the high-speed rotating roller and concave plate's gap. What's more, the gap will decide the degree of materials crushing. We have NS-40, NS-60 and NS-80 models for you. They crush raw materials and returned materials 2-8 tons per hour. Generally, the inlet raw materials' size should less than 4 mm, and moisture less than 5%. And the outlet materials' size between 0.3mm and 0.5 mm.
3. Cage crusher makes preparation for the fertilizer pellets' granulation.
The cage crusher is a medium-sized horizontal cage crusher. It designs according to the principle of impact crushing. This one is more suitable for the compound fertilizer production. LSF-600 and LSF-800 are the two recommending machines for you.The power they consumed is 22-30 kw. You can grind materials 4-10 tons in one hour easily.
Large production scale granules grinding machines: New type vertical crusher, Chain crusher.
1. New type vertical crusher grinds materials for making fertilizer granules.
It is suitable for the crushing of raw materials and returned materials, especially for materials with high moisture content. It has strong adaptability and is not easy to block. There are three models SXFLF-600, SXFLF-800 and SXFLF-1000. They can crush materials 3-15 tons per hour. And powers consume 20-37 kw. The crushed materials' moisture is 8%.
2. Chain crusher is suitable for crushing and granulating complex fertilizer.
This one is also suitable for crushing lumps in compound fertilizer production. They can crush all kinds of bulk fertilizers and other medium-hard bulk materials. We provide five models of chain crusher for you. Their production capacity is 5-25 tons per hour. The inlet raw materials' size less than 100 mm is enough. At the same time, the 57%-90% of output particle size is less than 3mm.
How to crush materials of fertilizer granules by the semi-wet material crusher?
Among these fertilizer pellets grinding machines, semi-wet material crusher has a wide application and strong adjusting ability. Here we can see how they crush materials for later pellets' granulation.
The semi-wet material pulverizer adopts double-stage rotors for upper and lower stages of crushing. The materials are pulverized into fine particles through the upper-stage rotor pulverizer, and then sent to the lower-stage rotor to be further pulverized into fine powder to achieve the best effect of material powder and hammer powder. Finally, materials are discharged directly from the discharge port.
As the semi-wet material grinder does not have a designed screen bottom, so that it can crush more than a hundred kinds of materials without clogging. Even the materials just picked up from the water can also be crushed. The machine will not be blocked and burn out the motor. Your machine can still have a normal run.
Effects of new type vertical crusher plays in fertilizer granules' processing.
You have knew what the features does our hot sale pellet grinder, that is new type vertical crush machine. Now it's time to know what effects does it have for granulate the crushed materials into organic pellets. We will talk about it from two aspects: size and moisture.
(1)It can crush and clean the large blocks materials for granulation.
Of course, this is the most important effect that crusher has and you expected. Large blocks are always difficult to handle. Without an efficient crusher, granulation machines will cost more time to turn the blocks unto 3-10 mm qualified pellets.
(2)It can control the materials' moisture for wet and dry granulation method.
In the working procedure of pellet grinding machines, we have noticed that many of them have requirements to moisture. For example, urea crusher's inlet raw materials' moisture is less than 5%. Straw crusher's inlet moisture is less than 10%. It makes their outlet materials' moisture is also low. New type vertical crusher's handled materials' moisture is 8%. Low moisture will make it get ready for the later granulation process, whether dry granulation or wet granulation. They can adopt to the granulation methods flexibly.
Case: Straw grinder work with flat die granulation machinery to make high quality fertilizer pellets.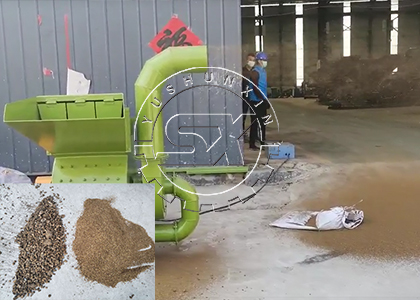 Flat die granulation machine mainly use straw as its raw materials to make fertilizer pellets and feed pellets. It can work with the straw crusher, which is also designed and made according to the straw and the like's characteristics. In some organic fertilizer production line, they are usually assembled up and down together.
In this way, the straw crusher can grind straw etc. into powdery. It can keep the nutrient and fiber in the straw during the crushing process. And then the crushed materials can added into the flat die granulator to make pellets. It will extrude the rollers and dies to granulate all kinds of crushed  powdery materials. The straw and corn stalks usually have a low adhesion rate and are difficult to shape. But through the process of pellet straw crusher and the flat die mill can turn them into granules efficiently.
Advantages for Having Our Pellet Grinder to Make Fertilizer
As we mentioned above, the crusher has play important roles in the organic fertilizer production line. There are mainly three features that attract customers to use it for making high quality organic fertilizer pellets.
Stronger adaptability, especially for materials with high moisture content. The crushing machines are not easy to be blocked by raw materials of fertilizer, and even can discharge them smoothly.
Longer service time. The crushing device is made of special material, which has a service life longer than that of similar products. Our company have upgraded some parts to prolong the service life. For example, the new type vertical crusher's blades are double-edged. When one end is damaged, you can turn the other end which can also make sure the normal use.
The pulverizer has high crushing efficiency. Most of our grinding machines have more than 5 tons of crushing production ability. In this way, they can match with most medium-production scales of granulation machines perfectly. There will be no problem in the granulation process caused by inadequate or over supply of crushed materials.