New Type Organic Fertilizer Granulator
A new type organic fertilizer granulator machine (stirring teeth granulator) is a fertilizer production machine for granulation. With this granulation equipment in your fertilizer plant, therefore, you can make different kinds of fermented organic matter into granulates. Besides, to make quality organic fertilizer pellets , we adopt new technology in organic fertilizer production. Thus, the pellets are usually ball-shaped and the organic content can up to 100%. The following is detailed information for your reference, which includes the new granulator's working principle and procedure etc.
How To Make Your Expected Pellets Size by the New Type Organic Fertilizer Pelletizer?
Before you buying this new type of fertilizer making machine, there are some basic information for your reference: its granulation method and commercial models. Below is the information about the granulation method.
One reason is because the stirring tooth mixes the pellets and makes the pellets crash with the blades and the tube wall. The other reason is that the machine adopts wet granulation. The moisture of feeding material is between 20%-40%. It is suitable for the machinery to start working directly. Therefore, the granulation rate is above 90%. Besides, the pellets' diameters are usually 3-10 mm.
What Scales Can You Choose Among Our New Organic Fertilizer Pellet Making Machines?
Our factory mainly has five models of this organic fertilizer granulator type: JZ-600, JZ-800, JZ-1000, JZ-1200 and JZ-1500. Their production capacity can be divided into three categories: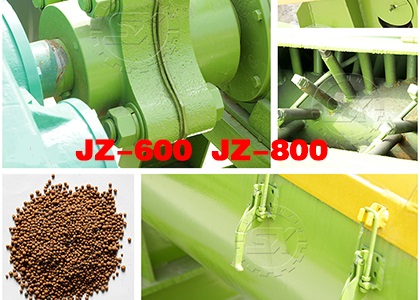 Firstly, small scale new type fertilizer of granulators are the model JZ-600 and JZ-800. They make pellets 1-2.5 tons per hour. Therefore, in one month, if the machinery works 30 days and 8 hours every day, they can make  240-600 tons pellets.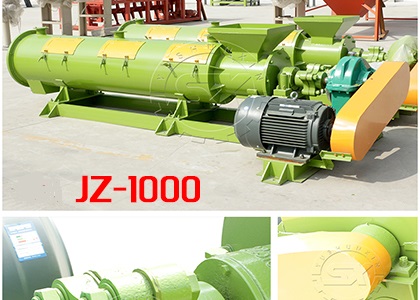 Secondly, the medium scale granulator is JZ-1000. It makes 2-4 tons per hour. For one month, it can achieve a capacity of  480-960 tons.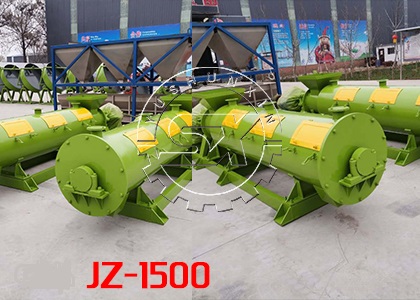 Lastly, large scale granulators are JZ-1200 and SXJZ-1500. They make 4-8 tons per hour. In one month, it can granulation 960-1920 tons.
Granulation Method for New Organic Fertilizer Pellet Equipment
In the making of a new type granulator organic fertilizer, our factory adopts wet granulation. And it's working procedure is like this.
When a new type organic fertilizer granulation machinery works, you put adhesive into the raw materials. Then the granules will coalesce by the function of the adhesive. Then under the function of stirring tooth, the pellets' hardness will improve greatly. The pellets' strength is up to 20-25N.
By adopting such a granulation method, your finished products made by the new technology organic fertilizer plant granulation will have the advantage of high quality, beautiful shape, strong wear resistance, high hardness. It is beneficial for you to gain advantages in the fertilizer market.
What kind of raw materials are suitable for the production line's process?
To make manure pellets, poultry manure, green manure, and other municipal solid waste are suitable raw materials for the new type organic fertilizer pellet making machine. After fermentation, these raw materials' moisture is between 20%-40%. And the size of the feeding materials is 50 mesh. Then you can feed the materials into the machine to granulate.
Full production procedures in your plant to make qualified fertilizer pellets.
In a complete new type organic fertilizer pellet machinery production line, compost machines can ferment the raw materials and control their smelling, moisture and temperature. When the moisture is between 50-60%, and the temperature is between 40-50℃, the composting ends.

If there are too many blocks and other impurities like stones etc., you can use a new type vertical crusher or semi-wet material crusher to grind the materials.

Besides, you can add some biological or functional bacteria into the batching machine for various uses fertilizers' production.

Then you can granulation by using the new type organic fertilizer granulate fertilizer equipment.

After granulation, drying and cooling are necessary for the granules. They control pellets' moisture and temperature for packaging. Our factory provides the detailed parts for the whole dryer and cooler working line.

Then you can package the pellets and send them to the storehouse for selling.
Buy A New Type Organic Granulator Near You, or Choose Us?
Above all, we are China's self operated import and export enterprise. Our company has a professional team composed of experts, professors and senior engineers. We are dedicated to the research, development, manufacture and promotion of organic fertilizer & compound fertilizer equipment. After years of reform and development, Shunxin Machinery has won countless certificates of honor. These honors are consumer approval of our products. We have gained good credit and reputation in the machinery industry. We will be the best choice for you to start your business.
How To Buy A New Type Organic Fertilizer Granulating Machine in Our Factory?
If you want to buy new type organic fertilizer granulators at a low cost, firstly, the comparison is necessary. You can use more comprehensive and detailed websites like ours, for you to get the information you need.

Besides the price, the machine's function and advantages than others are also very important. Our granulator can produce high hardness organic fertilizer pellets, which is an advantage that most factories don't have.

We also insist on providing the most considerate service for you. We can design the configuration plan according to the factory layout and the local environment for free. Employees and engineers will help you lower the effect of the factors that increase the total cost. Our new type organic fertilizer granulation devices will be your best plan for high quality but low cost.