Alfalfa Pellet Mill for Sale
Alfalfa pellet mill for sale is a granulating machine which use alfalfa as the main materials. Thus, it can turn alfalfa into organic fertilizers for the growth of plants, and we also can turn alfalfa into feed fertilizer for the cow feed, goat feed and so on. What's more, we can not only recycle the high nutrient alfalfa, but also make the applying procedure much easier for you. You can control the pellets' amount directly.
In our factory, we mainly recommend our alfalfa pellet mill for sale: flat die granulation machine. Below are the topics about it: the reason that you use alfalfa pelletizer, machine parameters and working principle, application places, and costs. It will be your freedom to read the part that you have interests.
Why Do You Buy Our Alfalfa Pellet Mill Machine?
Alfalfa pellet is made of natural alfalfa grass. It can releases pure natural growth agents, which can promote the growth of plants and animals. What's more, you can have alfalfa pellets' great benefits by using our alfalfa granules making machine: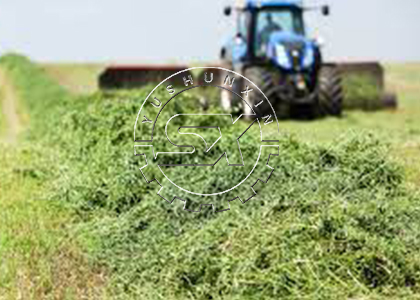 Alfalfa is easy to lose nutrients under the normal environment. It can't provide the enough nutrients after a long time storage. However, our pellet granulating machine can keep the fresh alfalfa nutrients timely in scaled process.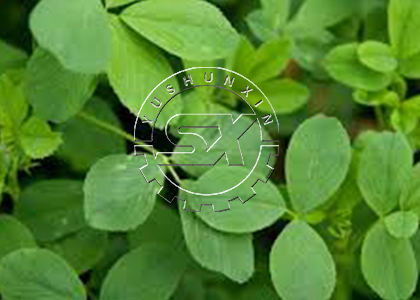 Alfalfa is a plant and it has unique fragrance as an organic fertilizer. This is one important reason that most people favor it. However, if alfalfa without our granulating machine's process, it will changed its smell greatly with the moisture lose under the normal preservation.
Designs and Scales of Flat Die Machine's for Making Alfalfa Fertilizer Pellets
Flat die granulating machine can not only turn alfalfa into organic fertilizer, but also feed pellets. It has great function than others, which is much adjustable to your needs. The alfalfa flat die granulator extrudes the rollers and dies to granulate alfalfa pellets. Besides, you can also choose corn stalks and other crop stalks, or factory waste as your raw materials.
Significantly, in the process of alfalfa flat die pellet press machine, we can divide it into three parts mainly: break and separating part, transmission connection part and head working part.
(1)Break and separate part:
After you put into the alfalfa materials, they are pressed by the rollers. Then they're going into the breaking device. You can separate the qualified pellets and the return material through this equipment.
(2)Transmission connection part:
hen the transmission connection parts are working, the electric motor will drive the pulley, V-belt, and reducer to rotate and granulate the fertilizer pellets. In addition, there is a transmission chain composed of sprocket and chain, which is the main motivation for driving the crushing and separate part. We also use the mutual work of the nylon pin coupling to drive the transmission reducer and the head working part.
(3)Head working part:
Then for the head working part, we use a pair of open wheels to ensure that the pair of rollers are synchronized. In addition, both sides of the active and passive shafts are composed of specific bearings and bearing frames, which installs on the frame.
If you have questions, it's welcome you contact with our customer service. Especially, if it is convenient for you, you can visit our factory in Xingyang, Henan. We have already make preparations for your visit.
Wide Application of Our Alfalfa Pellets Granulating Equipment
It's easy to find alfalfa as your raw materials for granulation.
Alfalfa pellets are a legume and a green manure. It has much kinds particularly, which you may haven't noticed. You may find much more in the villages, mountains, furthermore, some farms have scaled alfalfa production. You can build your factory much closer to these places. After you buying our alfalfa pellets granulation equipment, it will cut extra transportation during granulation process.
The alfalfa pellets have a wide application range.
Alfalfa contains sufficient nitrogen, and phosphorus and potassium. The ratio of nitrogen, phosphorus and potassium is about 3:1:2, which is even higher than that of vermicompost. If there is not enough compost or vermicompost at home, this alfalfa pellet is a good supplement. Alfalfa pellets made by our granulating machine still have high nutrient ratio, and we can also add other adhesives to increase nutrient and keep fresh. They can promote all kinds of plants growth and provide feed for animals. It has applied widely in agriculture.
In this way, you can set our alfalfa pellets granulating machine much closer to the market. There will always have customers choose your cheap and wider scope of application alfalfa pellets.
Price Cost of Our Machine for Making Alfalfa Pellet Mills
Alfalfa pellet is valuable for money. A large bag of alfalfa pellets costs about $16, and you can use it for a whole year. In a daily fertilization, spread 1 cup of alfalfa fertilizer on 1 square meter is enough. Similarly, our flat die alfalfa pellets making machine is also valuable for money.
The price of one set flat die granultor in our factory is $2800-8100. In other factories, whose production capacity can reaches our level, but the price is much expensive, they sell at least $5000. 1-2 tons per hour of alfalfa pellets production capacity machine sells at least $3500 around. Some price does cheaper, 300-500 kg/h alfalfa flat die granulator sell $2900-7500. After this comparison, you can do believe that we are the most appropriate partner for you.
Price fluctuation is caused by the machine parts, policy and tax etc consequently. This will also not effect that our flat die alfalfa pellets making machine is deserve to buy. Our company has a professional team composed of experts, professors and senior engineers. And we have experienced employees who can provide the considerate whole-sale services for you accordingly. You will happy that buy our not others' alfalfa pellets making machine indeed.