Disc Pelletizer Plant
Our disc pelletizer plant is hot sale among our customers. A complete disc granulation production line includes the whole procedures for making much more qualified pellets: fermentation and compost, crushing part, batching and mixing part, granulation, drying and cooling part, screening part, coating part and packaging part.
In the plant, you can use it to produce organic fertilizer pellets and compound fertilizer pellets. In summary, it have strong adaptability and handle ability to different raw materials: poultry manure, agricultural waste and some industry waste for the production of organic fertilizer; and chemical elements like nitrogen, phosphorus, potassium etc. for the production of complex fertilizer pellets.
Here is more information about the disc pelletizer plant for your reference.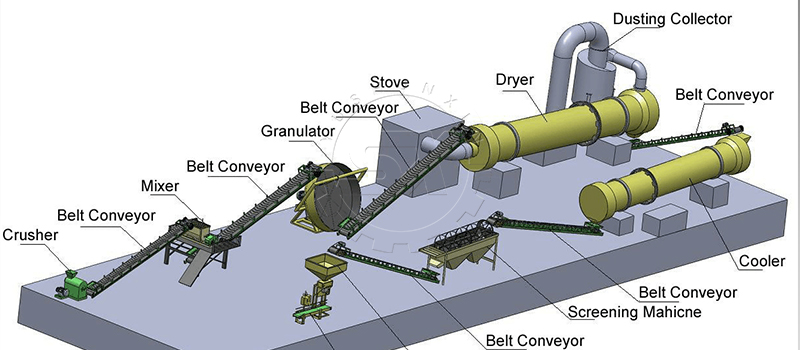 Disc Granulation Machine Functions in the Fertilizer Production Line
Disc granulating machine plays an important role through its unique designs. The machine is an overall arc structure. In this way, you add raw materials into the pan, and then start granulation under the function of the pan's rotating. The process ends with the suitable size of pellets getting out of the pan. The granulation rate is up to 93%.
Besides, the disc granulator is composed of a large plate, a large gear, a transmission part, a frame, a base, a scraper frame, and a non-powered scraper. The non-powered combination scraper clears the pan's edge and bottom, and the corner-cleaning scraper clears the corner. With the unique cleanup technology of the disc body, the effect of cleaning and ball-shape granulation is excellent, and there will be no big mud lumps. 90% of the diameter of the material ball is 3-5mm. It can improve the cleaning effects, but also help adjust the pellets' sizes at the same time.
The unique designs of pan granulator have made its production line has huge advantages than others.
Drying and Cooling: Necessary Procedures in the Factory of Disc Granulation
Our pan fertilizer pellet making machine uses wet granulation. The raw materials' moisture requirements are 45%. If the moisture is too low, it's harder to form ball-shape, and then the productivity will be much lower. However, if the moisture is too high, there will be bigger ball-shape granules. So the moisture control is very important. We provide hose and sprinklers to make them increase moisture at a certain amount and a fixed time. It makes sure the appropriate moisture with a low cost but high efficiency.

As it uses the wet granulation method, drying and cooling will be necessary part in the production line. In this way, can the fertilizer pellets reach the appropriate moisture standard for packaging.

In our factory, we mainly designed rotary drum drying machine for drying fertilizer granules, and we have six models of this type in our factory. The wet material is sent to the hopper by the belt conveyor or bucket elevator, and then enters the feeding end through the feeding pipe of the feeding machine of the hopper. The dryer's inlet material temperature is more than 300℃, and the outlet pellets' temperature is about 30-40℃. Then under the function of cooling machine, it will soon cool down for package. Thus, you can use drying and cooling machine to improve the pan granulating equipment's production efficiency greatly.
Benefits You Can Have by Setting Up A Disc Granulation Production Line
This disc granulator plant has a wide range of applications, and its benefits for you are as follows:
It is one-time molding. As the reasonable plant layout that we design and custom for you, you can have the highest production efficiency than other factories'. You can get quick results, and good economic benefits with less investment.
The whole production line costs small power. There is no discharge of three wastes during the production. Besides, it can provide you with stable operation and a convenient maintenance. In the whole procedure, you can gain values without cost too much efforts.
The disk granulating machine production line can be used for granulation of various raw materials, such as compound fertilizer, chemical industry, coal etc. And it can produce various concentrations and types of organic fertilizer, compound fertilizer, biological fertilizer etc. Especially the granulation of compound fertilizers based on rare earth, ammonium bicarbonate and ammonium sulfate is a popularization project for national environmental protection applicable technologies.
How Do We Sell Disc Pelletizer Plant to Our Customer in India?
We have a customer in India who had bought a 5 t/h disc granulation production line in our factory.
On 14th, June, our customer give us the first inquiry about the needs and requirements of their company. Our employee soon asked and checked the basic information about them on whatsapp. Later, they negotiated twice about the raw materials and machine models.
On 29th, June, we give our disk granulator production line PDF to the customer. As they worries about the granulation effects, they had decided to test the machine with their raw materials during their visit to our factory in Xingyang, Henan.
Later, on the 20th -21th of August, Indian customer visited our factory and they get a good testing effects. The next day, after we had negotiated the details with our customer, we gave us quotation to them.
During the whole process, we have talked about much details about the disc granulating production line, includes the design of plant, and each machine and auxiliary parts' functions and models, the comprehensive information about the whole production line etc. Our employee answered each question professionally, sincerely and timely.
On October 10th, we gave them our final quotation. We have patience and confidence that our customer purchased the disc pelletizer plant without doubts and worries.
All in all, we use our strong power and considerate service gain many customers' trust and brilliant achievements.
How Much You Need To Pay for A Whole Disc Pelletizer Plant?
As we mentioned above, a whole disc pelletizer plant need compost machine, feeding machine, vertical crushing machine, screening machine, batching machine, disk granulation machine, drying and cooling, screening machine, coating machine, packaging machine, and belt conveyor to work together. You usually choose their models with the same level of production capacity. We have calculated them and you can take it as your reference.
For a small scale disc granulation plant, which can make fertilizer pellets 1-2 tons per hour, it usually occupies 2000 square meters. The budget is about one hundred and ten thousand dollars. Then, for a large scale disc granulation plant, it can usually make pellets 20 tons in an hour. The area of the factory is nearly 10000 square meters. And your budget is up to 550000 dollars. More details about the calculation you can ask our customer service and employees, and they will reply back to you soon.